Contact Info
Cornerstone Health & Wellness
5509 Colleyville Blvd., Suite 100
Colleyville, TX 76034
Phone: 817-479-0055
Contact via Email
Visit our Website
Photo Tour
Services
Chiropractic Care
Physiotherapy
Massage Therapy
Trigger Point Release
Taping
Electrical Stimulation
Physical Medicine
Hours of Operation
Monday, Wednesday and Thursday: 8:00am-6:00pm
Tuesday and Friday: 8:00am-1:00pm
Saturday: Closed
Sunday: Closed
About Us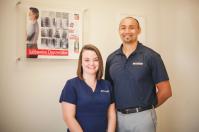 At Cornerstone Health and Wellness, we strive to improve the overall health of every person we serve. Our chiropractic clinic and doctors will achieve this through education, compassion and superior care. We're convinced that a small amount of your time and money to care for your most important asset--your health--will be far less time consuming and expensive than trying to recover it. If you feel you do not have enough time or money to take care of yourself, please contact us, we can help! The last thing we want is for you to come to our wellness center in crisis. So please, we would like to encourage you to take your health very seriously. As the old saying goes, if you don't have your health, you don't have anything. Please contact our office for any questions you may have about chiropractic and physical medicine care. We would love to help!
We'll Impress You
As a state of the art chiropractic and physical medicine clinic, Cornerstone Health and Wellness provides patients with the best care and gets them on the path to a healthy life. Our goal is that every patient will make health the cornerstone of their lives!
Mission Statement
Make health the cornerstone of your life!