Contact Info
Family Healthcare Associates
4301 Brown Trail
Colleyville, TX 76034
Phone: 817-281-8275
Visit our Website
Hours of Operation
Monday: 8:00AM - 5:00PM
Tuesday: 8:00AM - 5:00PM
Wednesday:8:00AM - 5:00PM
Thursday: 8:00AM - 5:00PM
Friday: 8:00AM - 5:00PM
Saturday: CLOSED
Sunday: CLOSED
About Us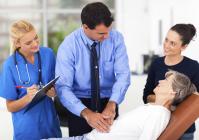 At Family HealthCare Associates we offer a wide range of medical services to fit our patient's needs. We are dedicated to improving the health of our patients by providing everything from primary care to diagnostic services. We are committed to providing the care you need when you need it.
Family HealthCare Associates is a physician-owned organization that has served the healthcare needs of the Dallas/Fort Worth area for over 50 years. While healthcare has seen many changes in those 50 years, our focus on providing high quality care to our patients has always remained the same.
Many of our physicians have been recognized by multiple health organizations for achieving their highest quality standards including a 5 STAR designation by CMS. These significant achievements are a reflection of the partnership our physicians foster with their patients to manage their health care needs.
At Family HealthCare Associates we understand your time is valuable. Many of our locations offer on-site diagnostic testing for your convenience. We also offer After Hours Care to treat illnesses and injuries that occur during non-traditional hours with the results of your visit available to your primary care physician.