Contact Info
Jersey Mike's Subs
4712 Colleyville Blvd.
Colleyville, TX 76034
Phone: 817-675-7350
Contact via Email
Visit our Website
Hours of Operation
Monday: 10:00AM - 9:00PM
Tuesday: 10:00AM - 9:00PM
Wednesday: 10:00AM - 9:00PM
Thursday: 10:00AM - 9:00PM
Friday: 10:00AM - 9:00PM
Saturday: 10:00AM - 9:00PM
Sunday: 10:00AM - 9:00PM
About Us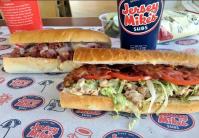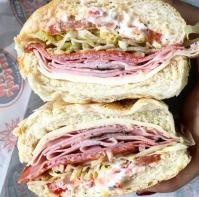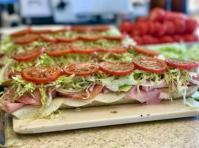 Jersey Mike's, a fast-casual sub sandwich franchise with more than 1,000 locations open and under development nationwide, has a long history of community involvement and support. Started at the Jersey Shore in 1956, Jersey Mike's serves authentic East Coast-style subs on fresh baked bread – the same recipe it started with over 60 years ago.
The
company's mission
is to bring its customers the highest quality, freshest made sub in the industry and give back to the communities in which it operates. A store locator and franchise information for Jersey Mike's can be found at
www.jerseymikes.com.
Today, Peter Cancro is CEO of Jersey Mike's Franchise Systems Inc., overseeing more than 1,500 locations open and under development. Despite the title, Peter still jumps behind the counter to test his skills and demonstrate his passion for the product and the customer. He tries to instill that passion in every store he enters and with every franchisee he meets.
Today, the authentic taste – served Mike's Way with lettuce, onions, tomatoes, oil, vinegar and spices – is available nationwide. Our secret? Everything about Jersey Mike's is high quality. Our MSA Grade top round beef are trimmed and cooked right in the store. Our meats and cheeses are all top-quality premium brands. Our bread is fresh-baked each day on the premises. And of course, everything's prepared right in front of you.
It's what makes Jersey Mike's the most authentic tasting submarine sandwich available, and it's a tradition of quality we'll never outgrow.