Contact Info
Ruggeri's
32 Village Lane, Suite 100
Colleyville, TX 76034
Phone: 817-503-7373
Contact via Email
Visit our Website
Hours of Operation
Sunday 5-9
Monday-thursday 11-2 and 5-9
Friday 11-2 5-10
Saturday 5-10
About Us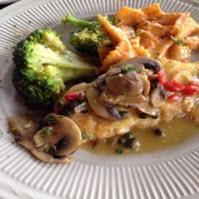 Welcome to Ruggeri's
Italian Restaurant in The Village at Colleyville in Colleyville ,Texas.
Old-fashioned Italian fare like stuffed manicotti & veal scampi served in a homey setting.
Ruggeri's is your romantic dinner destination featuring affordable, fine Italian dining with a cozy atmosphere, wine, and live music weekly.
Ruggeri's is noted for its use of fresh ingredients and its diversity of choices. However, there is a major emphasis on delicious, fresh fish dishes, particularly the special combination appetizer that features shrimp, calamari and crab.
Pasta fans will find plenty to love, and there is a huge assortment of veal dishes. Of course, a visit to Ruggeri's is not complete without a delicious dolci, so dive into the comprehensive dessert offerings too.