Contact Info
Teddy's Bigger Burgers
4712 Colleyville Blvd. Suite 100
Colleyville, TX 76034
Phone: 817-503-2100
Contact via Email
Visit our Website
Fundraisers We Support
Warrior Angels Foundation
GCISD Schools
Hours of Operation
Mon: 11:00AM - 9:00PM
Tue: 11:00AM - 9:00PM
Wed: 11:00AM - 9:00PM
Thur: 11:00AM - 9:00PM
Fri: 11:00AM - 9:00PM
Sat: 11:00AM - 9:00PM
Sun: 11:00AM - 9:00PM

About Us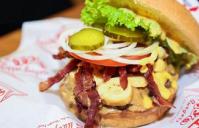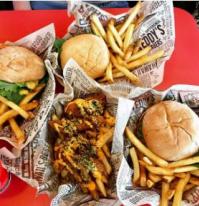 Teddy's Bigger Burgers is reinventing the burger joint.
At Teddy's,we've build a better burger and much more. We know Colleyville , TX is serious about their burgers, and so are we. Oh, and don't forget our hand scooped ice cream shakes!
The freshness of our food is our focus, and we have a huge selection of specialty burgers, toppings, and creative sides to choose from. The meat we use for our burger patties is top quality, 100% ground steak, cooked to order, and flame grilled. Our awesome toppings include avocado, Kilauea Fire Sauce, Grilled Pineapple, Onion Rings, Jalapenos, Grilled Onions, Mushrooms, Spud (hashbrown), and Furikake.
No one can resist a Teddy's burger. Come try our immensely popular teriyaki burger, Bacado burger, Kailua burger, chicken tenders, garlic butter fries, and tots and see what all the fuss is all about. We promise you will not be disappointed!
The first Teddy's Bigger Burgers was opened on the 15th of April 1998 at the foot of Diamond Head. Our competitive advantage lies in an extreme focus on quality & customer service. Because all of our menu items are prepared to order, we do take a little longer. Our goal is to make it worth the wait.