Contact Info
Active Rehab & Associates
1009 Cheek-Sparger Rd., Suite 124
Colleyville, TX 76034
Phone: 817-428-2300
Contact via Email
Visit our Website
Services
Chiropractic Adjustments
Active Release Technique
Massage Therapy and Myofascial Release
Nutrition and Exercise Programs
Wellness Planning and Weight Loss
Physiotherapy
Hours of Operation
Monday, Wednesday, Thursday 10AM-6PM
Friday 10AM-2PM

Closed on Tuesdays and weekends.
About Us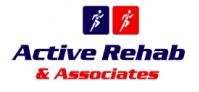 Active Rehab & Associates is a motion based clinic, focusing on restoration and strengthening of normal ranges of motion within the body. We believe that motion is life! Our clinic encourages active lifestyles and focuses on strengthening exercises to decrease injuries and soft tissue micro-traumas that are created through repetitive motions or poor ergonomics. We also focus on relieving pain and realignment of posture. The doctor is board certified in Physiotherapy and chiropractic, and our services include Active Release Technique (ART), Chiropractic care, myofascial release, electric stim, microcurrent, ultrasound, nutrition, muscle therapy and individualized exercise programs. The office is currently staffed with a licensed massage therapist.