Contact Info
Scooter's Coffee & Yogurt
7171 Colleyville Blvd
Suite 110
Colleyville, TX 76034
Phone: 817-416-6800
Contact via Email
Visit our Website
Hours of Operation
Mon-Fri 6:00AM - 7:00PM
Sat 6:30AM - 7:00PM
Sun 7:00AM - 7:00PM
About Us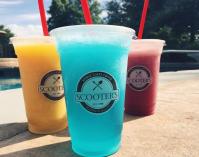 Welcome to the World of Amazing!
Every day at Scooter's is a chance to amaze our customers.
In 1998, Scooter's Coffee was born. Co-founders Don and Linda Eckles began an amazing journey when they opened their first drive-thru coffeehouse in Bellevue, Nebraska. Their keys to success: find a great location and stay committed to high-quality drinks, speed of service, and a BIG smile. Scooter's is fortunate to have nearly two decades of success due to its commitment to the original business principles and company core values. Amazing People, Amazing Drinks… Amazingly Fast.

We've been brewing up delicious brewed coffee, Espresso Blenders, smoothies and pastries since '98. You may say we're in the coffee business, but we're actually in the people business. Making you smile every single time you take a sip of us is our goal. When you stop by one of our locations you'll see a smiley face sticker smilin' right back at you on every cup! Every. Single. Time.

Scooter's Coffee is a franchise company that expands over 150 locations in 15 states, with a list that's continually growing. We believe everyone deserves to have a Caramelicious near them, no matter where they live!

We believe in quality. We ensure this by only roasting from the top 10% of specialty coffee beans in the world.. Our variety of products spans from brewed coffee, espresso drinks, smoothies, blenders, pastries, breakfast sandwiches and burritos.

New to Scooter's? Check out our Caramelicious - it's the drink that made us famous, and one sip will tell you why!