Contact Info
Mr. Jim's Pizza
1001 Glade Road, Suite 100
Colleyville, TX 76034
Phone: 817-514-6600
Visit our Website
Hours of Operation
Sun-Thur 11:00am to 9:00pm, Fri & Sat 11:00am - 10:00pm
About Us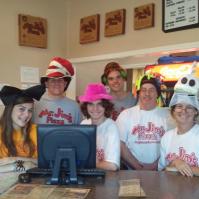 To deliver the best pizza, quality and freshness is expected. Working with superior ingredients is why Kevin Mason, the owner, shops every morning at our local organic produce market to bring you only the best.

We load our pizzas and pizones with these fresh toppings, as well as our salads and sub sandwiches.
Our management has been professionally trained in customer service by both Nordstroms and Disney. We have also implemented efficiency tactics taught by Paccar, the maker of Peterbuilt hauling trucks.

As we grow, from the first contact on the phone, to the delivery at the door, we work diligently to provide a positive experience for our customers.


We'll Impress You
We have repeat customers whose orders number in the hundreds. Our product is superior, our team is capable, and we are proud of that. We love our community and wish to offer our very best.
Our Guarantee
A pizza (or other item) made just like Mr. Jim makes, served or delivered in a manner that causes the customer to demand more.